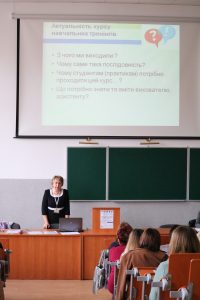 𝐈𝐧𝐜𝐥𝐮𝐬𝐢𝐨𝐧 𝐖𝐞𝐞𝐤 𝐚𝐧𝐝 𝐒𝐞𝐦𝐢𝐧𝐚𝐫 "𝐖𝐢𝐭𝐡𝐨𝐮𝐭 𝐁𝐨𝐫𝐝𝐞𝐫𝐬: 𝐒𝐮𝐬𝐭𝐚𝐢𝐧𝐢𝐧𝐠 𝐚𝐧𝐝 𝐒𝐮𝐩𝐩𝐨𝐫𝐭𝐢𝐧𝐠 𝐈𝐧𝐜𝐥𝐮𝐬𝐢𝐯𝐞 𝐄𝐝𝐮𝐜𝐚𝐭𝐢𝐨𝐧 𝐋𝐞𝐚𝐫𝐧𝐢𝐧𝐠 𝐂𝐨𝐦𝐦𝐮𝐧𝐢𝐭𝐲 𝐢𝐧 𝐔𝐤𝐫𝐚𝐢𝐧𝐞" 𝐰𝐚𝐬 𝐡𝐞𝐥𝐝 𝐢𝐧 𝐏𝐫𝐞𝐜𝐚𝐫𝐩𝐚𝐭𝐡𝐢𝐚𝐧 𝐍𝐚𝐭𝐢𝐨𝐧𝐚𝐥 𝐔𝐧𝐢𝐯𝐞𝐫𝐬𝐢𝐭𝐲 𝐨𝐧 𝐎𝐜𝐭𝐨𝐛𝐞𝐫 𝟐𝟗 – 𝐍𝐨𝐯𝐞𝐦𝐛𝐞𝐫 𝟑, 𝟐𝟎𝟏𝟖
Hosted by Ivano-Frankivsk college and Department of elementary education, Precarpathian National University, organized by Global Resource Center on Inclusive Education, Institute on Community Integration, University of Minnesota and Inclusion without Borders community and supported by the Public Affairs Section of the U.S. Embassy in Ukraine the weekly activities included lectures, presentations, workshops, educational visits by experts from Ukraine and the United States of America.
Among the topics of interest were: key concepts, ideas and principles of inclusive education, international and national legislation, Ivano-Frankivsk regional features of inclusion, psychological readiness of preschool educator for working in inclusive environment, RTI / PBIS overview, Direction Instruction, Incremental rehearsal, Peer Assisted Learning Strategies, Co-teaching, functions of the team of psychological and pedagogical support of a child with special educational needs, parents as equal members of the team, universal design for learning, multisensory approach in including children with special needs, inclusive-resource centers, storytelling, ICT and inquiry based approach in implementing ideas of inclusion…
Collaborating in focus groups educators, students and parents discussed successes and barriers in introducing inclusive education practices, identified and analyzed training and resource needs as well as pre- and in-training of teaching staff. During the inclusive week there were various activities for children with special needs: Inclusive Halloween, students' shadow play, video presentations, charity funfairs.
One of the organizers of the inclusive week Sergiy Sydoriv, an ADA Anniversary Inclusive Education Program fellow considers the event to herald a series in Khmelnytskiy, Kharkiv, Lviv, Kherson, Dnipro and Kyiv regions in 2018/9.
Join us and make a change: 𝘸𝘸𝘸.𝘧𝘢𝘤𝘦𝘣𝘰𝘰𝘬.𝘤𝘰𝘮/𝘨𝘳𝘰𝘶𝘱𝘴/𝘐𝘯𝘤𝘭𝘶𝘴𝘪𝘰𝘯𝘜𝘈/